Posted by yeslove, March 30th, 2008 | Print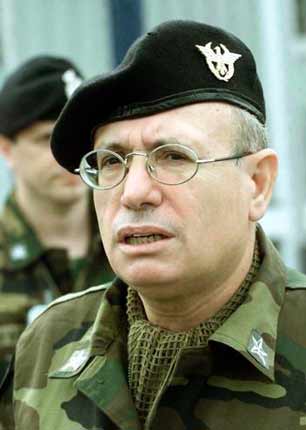 General Fabio Mini
I en insiktsfull artikel om kriget mot Iran i l'espresso från oktober förra året, elaborerar italienske NATO generalen och tidigare KFOR chefen Fabio Mini begreppet "Emergency politics" som kännetecken för ett västligt säkerhetspolitiskt sammanbrott (övers.).
Strange connections and affinities have come into being in these last 15 years of worldwide military interventions of different kinds. Armies have been integrated with private soldiers, visionaries with mercenaries, business with ideology, and truth has gotten so imbued with lies that the propaganda's logic can't account for either. And one of the most unusual connections is the one that has been established between military staff, humanitarian workers and foreign policy, to such an extent that each of the three components can pass itself off as the other two. The main cement of this union is the emergency concept. Foreign politics has lost its nature of continuity in the relations between states and in the sphere of international organizations. It has been devoting itself for a while to running emergency relations, meaning extemporaneous relations connected to temporary and changeable interests or positions that are transitory and changeable to variable geometries.
Emergency politics följer en tidsanda där de politiska visionerna om människan, livet och framtiden tagit slut och ersatts med sporadiska och flyktiga emotionella ställningstaganden som driver politiken framåt genom reaktioner på uppkomna 'tvingande' nödlägen. Mini representerar tillståndet med följande politiska kapitulation av den franske utrikesministern Bernard Kouchner.
"We must prepare ourselves for the worst."
Han understryker med följande tankeväckande kanonsalva i ansiktet på Frankrikes regering.
The attack against Iran will take place thanks to the newly-appointed French Foreign Minister Kouchner.
Möjligen är det inte så att det saknas visioner, tanke- och ansvarsförlamningen hos den politiska klassen kan också bero på att man arbetar för andra intressen än det egna landets eller att det saknas plats eftersom det finns en elefant i vardagsrummet med en vision om världsherravälde och i vars strategi, som av en händelse, många av de sporadiska nödlägen som uppstår tycks passa som hand i handske. Artikeln handlar om Iran men Kosovo ligger också nära till hands eftersom Mini var chef för KFOR-styrkan, det gäller även i olika grader Afghanistan, färgrevolutionerna i de gamla Sovjetstaterna, Dafur, Burma och nu Tibet. Bortom humanitära ställningstaganden har alla dessa oroshärdar geopolitisk betydelse. Mini nämner i förbigående också ett annat tillstånd som uppstått samtidigt med nödlägespolitiken.
There are no longer any armies able to defend their own territories or to provide defence in case of war.
Som man sade i Sverige medan hökarna i Washington tydligt klargjorde planerna på sitt trettioåriga världskrig -Det föreligger ingen hotbild. Och därmed förstås inte heller något motstånd. Det föreligger heller ingen vision, identitet eller pålitlig information och därför inte heller någon demokrati eller ens nation i någon vidare mening än ett mediemanipulerat skatteprotektorat. Det enda som verkar föreligga är -ett nödläge.
Mike Whitney:Putin Agonistes: Missile Defense will not be Deployed
The NSS is an unambiguous declaration of war against any nation that claims the right to to control its own resources or defend its own sovereignty against US interests.
Fabio Mini:"Operation Swarm" – War without End against Iran
Läs också:
Fabio Mini:Even Escape is an Art
Andra bloggar om politik, säkerhetspolitik, försvaret, nato, propaganda, demokrati, globalisering