Posted by yeslove, November 8th, 2008 | Print | English
EU vill återuppta partnerskapsförhandlingar med Ryssland.
Russia Today:New kids on the block better listen – EU
"My message to Poland and Lithuania is that it's better for you to be with all of the member-states in expressing a single view rather than having different views towards Russia," Barroso said.

The situation seems to have changed drastically over the past two weeks, as the UK had abandoned the earlier demand to freeze EU-Russia relations and voiced the readiness for a new page in that relationship. The Czech Republic, Sweden, Estonia and Latvia sided with the UK.

Only Lithuania and Poland adhered to the position voiced upon the beginning of August hostilities in Georgia. However, the UK refused to sign that document. In fact, the EU does not need authorisation from other EU agencies for resuming negotiations on a new strategic partnership agreement with Russia, as French representative Christine Roget told a Friday press briefing before the EU informal summit.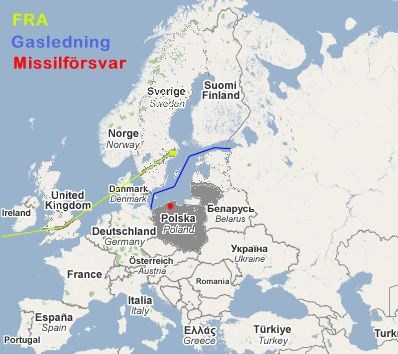 Fickor av proamerikanskt koncensus mot Ryssland inom EU efter krisen i Georgien.
Storbritannien retirerar, tjecker, balter och svenskar följer efter, kvar står Litauen och Polen. Enligt samma källa förs det också kritiska diskussioner om missilförsvaret bland brittiska parlamentsledamöter.
Russia Today:British MPs call for debate on U.S. missile shield
The British government has already given permission for two bases on British territory, but now more than 70 senior Labour Party figures, including over 50 MPs, are questioning the wisdom of the move.

They took action after a new poll showed almost two thirds of people asked about the system said it would make the country less secure.

Det är verkligen på tiden eftersom missilförsvaret, som blir operativt 2012 hotar överlevnaden på norra halvklotet. Inte heller de regionalpolitiska följderna ser lysande ut för ett strategiskt partnerskap eller i ett läge där man skulle tänka sig att byta valutastandard för att inte dras med ner i djupet.
Poland and the Missile Shield – an interview with Radek Sikorski
As Radek Sikorski, Poland's FM who signed the deal with Condi Rice, told me last week, it's all about US "boots on the ground".
Andra bloggar om politik, eu, ryssland, missilförsvar, säkerhetspolitik