Posted by yeslove, August 20th, 2008 | Print
I skuggan av konflikten i Georgien har Polen signerat ett avtal om utplacering av missilförsvar. Trots sitt oskyldiga namn är det en offensiv vapenkomponent och integrerad del i en amerikansk nukleär förstaslagsförmåga.
DN:Ryssland hotar Polen med kärnvapen
Ryssland hotar att sätta in kärnvapen mot Polen sedan landet i veckan undertecknat ett avtal med USA. Avtalet ger USA möjlighet att använda Polen för att skjuta ner missiler som skickats från Ryssland.
Nu säger man alltså att det inte längre handlar om Iran. Men varför är ryssarna så hotfulla, precis hur kan missilförsvaret vara ett offensivt vapen och när sjösattes idén om ett post-sovjetiskt amerikanskt förstaslag mot Ryssland som politisk verklighet? Året var 2006 när två amerikanska militäranalytiker publicerade en analys av de förändringar de iakttagit i de bägge ländernas strategiska kärnvapenarsenaler.
Forign Affairs: The Rise of US Nuclear Primacy
The current and future U.S. nuclear force, in other words, seems designed to carry out a preemptive disarming strike against Russia or China.

…the sort of missile defenses that the United States might plausibly deploy would be valuable primarily in an offensive context, not a defensive one — as an adjunct to a U.S. first-strike capability
Valet av tidskrift gav analysen politisk tyngd och en halvofficiell bekräftelse att man uppfattat situationen i Ryssland kom snabbt från ex-PM Yegor Gaidar.
FT(28 mars 2006):Nuclear punditry can be a dangerous game
In an article in the latest issue of Foreign Affairs, the US-based journal, Keir Lieber of the University of Notre Dame and Daryl Press of the University of Pennsylvania lay out results of calculations according to a model they have developed. They show that the US has developed nuclear capacity sufficient to launch a strike guaranteed to wipe out Russia and China, without the risk of suffering a return strike.

They also provide a detailed explanation for Russian and Chinese leaders of the purpose of America's anti-missile defence system. The system is not about preventing the threat of attack from "rogue" nations, they argue, but rather, about enabling the US dramatically to reduce the risk of a nuclear counter-strike by Russia and China after a nuclear attack by the US.
Ordväxlingen markerade startpunkten för det nya kalla kriget men klarspråket var inte avsett för en bredare publik och efter den ryska kvitteringen slöt sig dimmorna kring missilförsvaret i västmedia följt av en pågående demoniseringskampanj mot Ryssland. Den typ av vardaglig desinformation DN-artikeln ovan representerar ger liten chans att förstå varken oss själva eller Rysslands position och reaktioner, därför är det värt att läsa vad Putin sade vid säkerhetskonferensen i München och G8 mötet i Heiligendamm något år efter artiklarna i Foreign Affairs och Financial Times.
And of course this is extremely dangerous. It results in the fact that no one feels safe. I want to emphasise this – no one feels safe! Because no one can feel that international law is like a stone wall that will protect them. Of course such a policy stimulates an arms race.
Sverige är delvis förlamat av desinformation och kan förvänta sig ungefär vad som helst av sina politiker. Det finns en risk att ett missilförsvar även kan komma att placeras här efter lämplig kris med påföljande NATO-inträde och göra också Sverige till måltavla för ryska kärnvapen, alternativt medverkande i ett omfattande USA-lett nukleärt folk och självmord. Med sin korrupta neutralitet väljer Sverige att bli kanonföda, ett bondeoffer i det geostrategiska schackspelet och närmar sig undergången entusiastiskt förvirrat av falska och missriktade föreställningar med Carl Bildt i spetsen.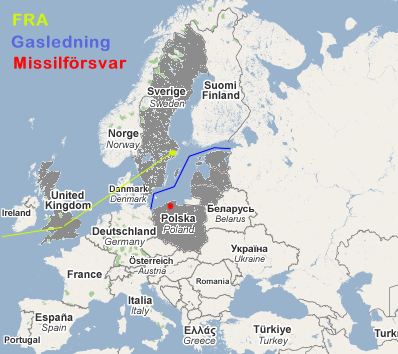 Proamerikanskt koncensus mot Ryssland koncentrerat till Östersjöområdet.
M K Bhadrakumar:China seeks Caucasian Crisis Windfall
Last Wednesday's emergency meeting of the EU foreign ministers in Brussels brought out the schism in Europe over the "Russian question". Britain, the Baltic states, Poland and Sweden pitched for denunciation of Russia, but the EU merely adopted the German proposal for augmenting the strength of the contingent of European "monitors" in Georgia from 100 to 300 and to provide humanitarian relief.
Even right-wing think-tanks like the Konrad Adenauer Foundation in Germany have drawn a red line that the US is pulling Europe needlessly into its strategies aimed at extending its influence into the Baltic and Caucasus regions "by bringing additional pro-American oriented countries into the [NATO] alliance".
Sverige verkar ha förträngt sitt nationella intresse och saknar egna initiativ, politiken formas istället reaktivt efter nödlägespolitiskt mönster. Bloggare och internetanvändare kan finna information från andra källor men politiker är i stor utsträckning hänvisade till ett offentligt samtal präglat av medias desinformation, nykonservativ historieskrivning, självrättfärdighetens etik samt en konsekvent oförmåga att se sig själv i spegeln och den andre i ljuset av sig själv. Med korrupta orsakskedjor, förvanskade proportioner och fokus på avgränsade detaljer spinns en diskurs av besatthet av demokrati utan kvalitativa reflektioner, hyckleri som metod och den rogivande men löjliga föreställningen att 'man strävar efter fred', medan allt talar för motsatsen.
William F. Engdahl:Missile Defense: Washington and Poland just moved the World closer to War
The signing on August 14 of an agreement between the governments of the United States and Poland to deploy on Polish soil US 'interceptor missiles' is the most dangerous move towards nuclear war the world has seen since the 1962 Cuba Missile crisis. Far from a defensive move to protect European NATO states from a Russian nuclear attack, as military strategists have pointed out, the US missiles in Poland pose a total existential threat to the future existence of the Russian nation. The Russian Government has repeatedly warned of this since US plans were first unveiled in early 2007. Now, despite repeated diplomatic attempts by Russia to come to an agreement with Washington, the Bush Administration, in the wake of a humiliating US defeat in Georgia, has pressured the Government of Poland to finally sign the pact. The consequences could be unthinkable for Europe and the planet.
Läs också:
William F. Engdahl:Putin and the Geopolitics of the New Cold War: Or, what happens when Cowboys don't shoot straight like they used to…
Missilsköld och amerikanskt förstaslag
FRA, gasledningen och militariseringen av Östersjön
Missilförsvar och nukleär dominans
Andra bloggar om: missilförsvar, geopolitik, säkerhetspolitik, försvaret, ryssland, georgien, kärnvapen
(uppdaterad 080923)